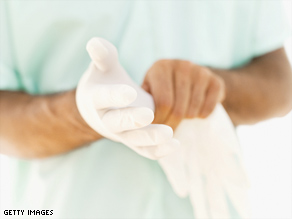 Dr. J. Stephen Jones had seven vasectomies to perform in a day.
The schedule for Jones, a Cleveland, Ohio, urologist, has become more crowded during a recent boom in vasectomies.
"My staff came to me and said, what's happening?" said Jones, the chairman of the Department of Regional Urology of Glickman Urological and Kidney Institute at the Cleveland Clinic. "Why are we suddenly having an explosion in guys asking for vasectomies?"
They looked at their statistics and realized the uptick started around November as the economic crisis deepened. October went down in the history books as one of Wall Street's worst months.
Since then, the Cleveland Clinic has seen a 50 percent increase in vasectomies, an outpatient surgery that is the cheapest form of permanent birth control. Vasectomies are less invasive and cheaper than tubal ligation, which involves blocking, tieing or cutting a woman's fallopian tubes to prevent pregnancy.
"It's unlikely that some guy read the Dow Jones numbers that day and said, 'Why don't we have a vasectomy?' " Jones said. "More likely, people have already been considering it and typically a guy and his wife have spoken a year or two about this."
Jones was told by patients that they were getting vasectomies because they were losing their jobs and health insurance, or concerned about being out of work soon.
"They realize they don't have the financial security long-term with what's going on," Jones said. "Several of them have mentioned, 'We can't afford to have any more children in this economy.' My perception is that it's more of the concept of raising children in an uncertain economic future."
Much like Jones, Dr. Marc Goldstein, surgeon-in-chief of male reproductive medicine and surgery at the Cornell Institute for Reproductive Medicine in New York, saw a 48 percent increase in vasectomy consultations compared with the same time last year.
"I have never seen anything like this," said Goldstein, a urologist for the last 30 years. "When things started to go south in the stock market, then the vasectomy consults went north."
Half of Goldstein's New York patients work in the financial sector. New patients filed into his office in November.
"I think the situation of finance and the economy is the major reason," Goldstein said. "Some of them have mentioned that, 'It cost $30,000 a year to put my kids in private school and I can't afford to have another one.' It's never the sole reason, but it's certainly a contributing factor."
Latest posts by disinfogreg (see all)