"As an expert in the causes of the Great Depression, I'm sure Ben never imagined he would be part of a team working to prevent another one," the U.S. president said.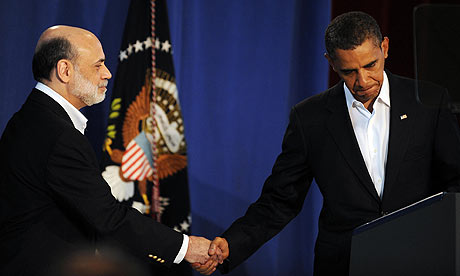 Andrew Clark and Larry Elliott, The Guardian:
President Barack Obama today nominated the chairman of the Federal Reserve, Ben Bernanke, to serve a second four-year term, delivering a vote of confidence that the US central bank chief is the right man to steer the world's largest economy out of the deepest recession since the 1930s.
In a pre-emptive move to end speculation on the financial markets about the Fed's leadership, Obama interrupted his summer holiday at the seaside resort of Martha's Vineyard to announce that he wanted Bernanke to continue when his term officially ends in February.
The decision is subject to ratification by Congress, where some Republicans have criticised Bernanke's willingness to intervene in the free market.
Standing alongside Bernanke, the president praised the Fed chairman's temperament, courage and creativity: "Ben approached a financial system on the verge of collapse with calm and wisdom, with bold action and with outside-the-box thinking that has helped put the brakes on our economic freefall."