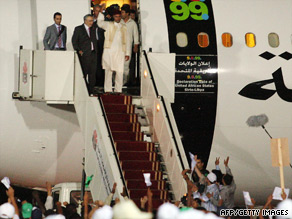 LONDON, England (CNN) — The British government did not make a deal to send the Lockerbie bomber home in exchange for an oil contract with Libya, Prime Minister Gordon Brown's office said Monday.
"There was no deal over the release" of Abdelbeset Ali Mohmed al Megrahi, a spokesman for Brown told CNN.
The government was responding to reports that the British government wanted al Megrahi to be eligible for release in order to smooth the way for the British oil giant BP to win exploration rights in Libya.
"The central assertion in this story is completely untrue and deeply misleading," Brown's office said in response to a story that originated in the Sunday Times.
But Justice Minister Jack Straw acknowledged Sunday that a key element of the story was correct — that Libya had demanded al Megrahi be included in a prisoner transfer agreement, and that, after initial resistance, the UK agreed to the demand.
Majestic is gadfly emeritus.