From Slate: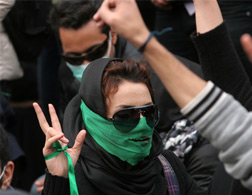 Half the journalists in jail work online, and most of them are freelancers.

From Tibet to Tehran, more and more front-line reporting is being carried out by freelancers and published online. But the revolution in newsgathering—brought about by new technology and the downsizing of traditional media outlets—has a down side. For the first time, half of all journalists jailed around the world worked online as bloggers, reporters, or Web editors. Most of them are freelancers with little or no institutional support.These are the key findings of a report released Dec. 8 by the Committee To Protect Journalists. The annual census of imprisoned journalists was conducted on Dec. 1 and includes every journalist who was in jail on that day. All told, there are 136 journalists on the list, an increase of 11 from the previous year. Sixty-eight of them worked online, the vast majority of them freelancers.

For the 11th year in a row, China is the world's leading jailer of journalists, with 24 behind bars. It is followed closely by Iran, where 23 journalists remain in jail, out of dozens rounded up in the aftermath of the disputed June 12 election. Cuba, Eritrea, and Burma round out the top five.
[Read more at Slate]