The Guardian has some revealing infographics: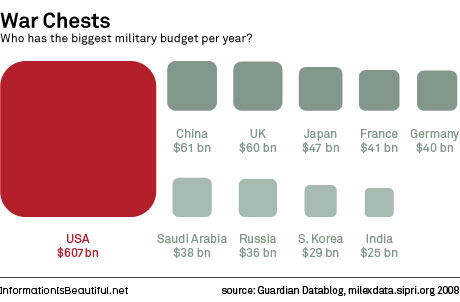 Yep, the United States spent a staggering $607bn (£402 bn) on defence in 2008. Currently engaged in what will likely be the longest ground war in US history in Afghanistan. Harbourer of thousands of nuclear weapons. 1.5m soldiers. Fleets of aircrafts, bombs and seemingly endless amounts of military technology.

The defence budgets of the other top nine countries can be neatly accommodated inside the US budget.

So the US is an aggressive, war-mongeringing military machine, right? And the numbers prove it. But is that true? Is that the whole picture?