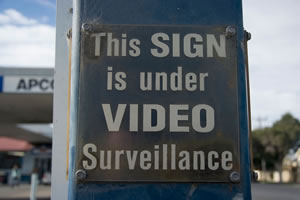 Image by lonely radio
Last week (2nd May), in the midst of Privacy Awareness Week [1], an Australian campaigner, Adam Bonner won a landmark decision against CCTV cameras in New South Wales [2]. The decision did not rule that the cameras in the town of Nowra should be switched off, but instead ordered the local council to stop breaching the Information Protection Principles of the Privacy and Personal Information Protection Act. Remedies were suggested by the Privacy Commissioner but suffice to say Shoalhaven council has switched the cameras off whilst deciding its next move.
The decision of the Administrative Decisions Tribunal New South Wales ordered that:
1. The Council is to refrain from any conduct or action in contravention of an information protection principle or a privacy code of practice;

2. The Council is to render a written apology to the Applicant for the breaches, and advise him of the steps to be taken by the Council to remove the possibility of similar breaches in the future.
… Read the rest