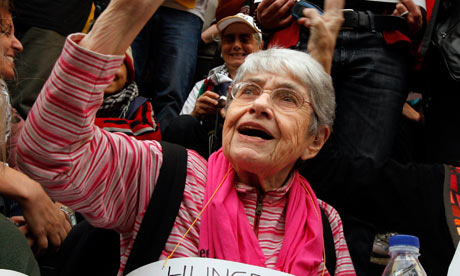 Hedy Epstein is a 90-year-old Holocaust survivor, as well as a Palestinian rights activist, and she was arrested on Monday while participating in a protest relating to the murder of Michael Brown:
Epstein, who aided Allied forces in the Nuremberg trials, was placed under arrest in downtown St. Louis, Missouri, "for failing to disperse" during a protest of Gov. Jay Nixon's decision to call the National Guard into Ferguson. Eight others were also arrested.

"I've been doing this since I was a teenager. I didn't think I would have to do it when I was 90," Epstein told The Nation during her arrest. "We need to stand up today so that people won't have to do this when they're 90."
Hedy is no stranger when it comes to activism and fighting for social justice:
In 2001 she founded the St. Louis chapter of the Women in Black anti-war group that originated in Israel, and has actively advocated for Palestinian rights since visiting the West Bank in 2003.
… Read the rest