From the Guardian: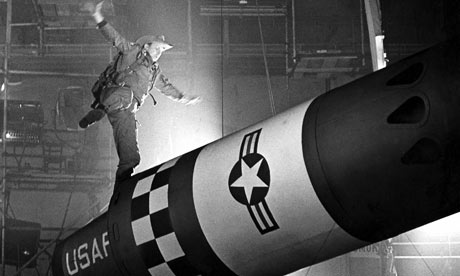 Nuclear Armageddon has always had its funny side. But the US military wasn't laughing in the early 1960s as Americans, freshly shaken by the Cuban missile crisis, lapped up Stanley Kubrick's classic satire, Dr Strangelove or: How I Learned to Stop Worrying and Love the Bomb.

The film – which portrays a psychotic air force general who sets in chain the nuclear obliteration of the Soviet Union – was one of a spate of popular novels and films about accidental atomic war which had the US air force worried that some viewers might believe it all possible.

So in an attempt to persuade Americans that there was no chance of some rogue general or crosswired computer unleashing an atomic war, Strategic Air Command (SAC) went into the film business itself.

The result, a 17-minute propaganda film called SAC Command Post, was never shown to the public and was all but forgotten until it was unearthed at the national archive by William Burr, a researcher from George Washington University.