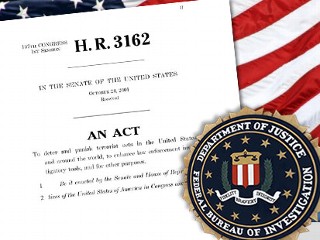 Why aren't we hearing more about this chance to rid ourselves of the most unconstitutional piece of legislation in recent memory, the PATRIOT Act? Elizabeth Gorman files this rare report for ABC News:
Rushed into law by Congress just weeks after Sept. 11, 2001 three controversial provisions of the Patriot Act granting officials far-reaching surveillance and seizure powers in the name of national security, are due to expire this New Year's Eve.

Two differing bills passed by the House and Senate judiciary committees in recent weeks will have to be reconciled in Congress, but only when the Senate isn't backlogged by health care, Democratic aides told ABC News.

"This critical legislation protects our national security, as well as our civil liberties, and the clock is ticking," said Rep. Jim Sensenbrenner, R-Wisc., an author of President Bush's 2001 Patriot Act and former chairman of the House Judiciary Committee under the Bush administration.